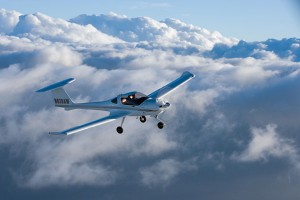 Our Training Aircraft – DA-20-C1 Eclipse
Imagine taking the ultimate 2 seat sports car and adding wings. That's the feeling you get when you take to the skies in the DA-20 Katana, whether traveling or training. The advanced design of the DA-20 Katana makes it an exciting airplane to fly – its agility and superb performance is guaranteed to put a smile on your face. The sound design also makes it incredibly stable, giving it the best safety record in the business, plus its low fuel burn and easy maintenance make it one of the most economical certified aircraft out there. Excitement and economy are the hallmarks of the DA-20.

Comfort and style
A thoughtfully designed low maintenance interior gives both pilot and passenger unmatched panoramic views, comfortable seating and easy cabin access through the jet fighter–like canopy. The aircraft has conveniently located storage areas plus a generous baggage area. The DA-20 Katana is well equipped to take you and your gear wherever you want to go.
Make your own experiences
The DA-20 provides you for your unforgettable flights with an exellent visibility. You will enjoy the easy handling and the quiet and smooth flight characteristics. Diamond is well known for it´s best safety record among piston singles and this will also enlarge your pleasure with this aircraft. With its uparalleled performance and efficiency, it is no wonder that the DA-20 is the trainer of choise for many flight schools. Constructed out of durable composites, the DV20 is easy to maintain, especially when compared to aluminum aircraft. There's no better way to introduce students to the wonders of flight than with an airplane that's sporty, sleek, reliable, economical and most importantly – a Diamond.
Alpine Flight Training utilizes the Diamond DA-20 Katana for initial and instrument flight training. We believe the DA-20 is one of the finest training aircraft avalable for many reasons.
Overview
The DA20 is a 2 seat aircraft designed specifically for pilot training. It features control sticks (as opposed to yokes), composite construction, a canopy, low-mounted wings, a single fuel tank, a T-tail, and a castering nosewheel. All models have composite airframes constructed of glass- and carbon-fiber reinforced plastic.
The DA20 is equipped with a bubble canopy that provides for great visiblity. Small windows on either side of the canopy can be opened on the ground and in flight to provide cockpit ventilation. The DA20's seats are reclined and are not adjustable, instead the rudder pedals are adjustable fore and aft to accommodate pilots of different height. The fixed seats provide better occupant crash protection.
The DA-20 possesses a higher glide ratio than many of its competitors. The glide ratio of the DA20-C1 is 11:1, meaning that for every 1,000 feet of altitude, the aircraft is capable of gliding 2 miles. The high glide ratio translates makes simulated training emergencies easier to learn as well as resulting in more options and a higher degree of safety in the event of an actual emergency.
Economy
The light weight composite design and aero-dynamics of the DA-20 results in a low fuel consumption rate of 5 gallons per hour, unlike many of our competitors who are operating aircraft with burn rates of 8-14 gallons. This translates to a lower operatinal cost, and is one reason Alpine Flight Training can offer the same flight training as our competitors at a rate 30%-40% lower.